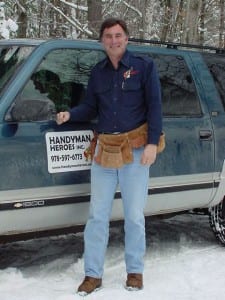 Founder's Bio, Philosophies & Credentials
Paul Silver started performing handyman work in the late 1960's in a family business (managing rental apartments). He financed much of his college education working at Grossman's in several of their stores, as well as their door & window factory. His career in high-tech was distinguished by founding & managing one consulting company, and managing 3 others. In the corporate world he rose to the position of Director of Employment at Internet incubator CMGI, managing a large staff & multi-million dollar budget. He's a sometimes orchestral musician (playing clarinet in Boston's Longwood Symphony Orchestra, and the Concord Band). He has been very active in the management of local not-for profit organizations; is the past Chairman of the Board of Trustees of the Longwood Symphony Orchestra, and past Chairman or treasurer of 3 others.
You can always expect that your Handyman Hero will: promptly return your phone calls, arrive at the scheduled time, fully disclose all costs, clean up thoroughly after himself, and make every reasonable effort to guarantee your satisfaction, and gain your repeat business. The growth of our business & its reputation depends on your satisfaction, and desire to refer us to your friends. The company was established to fill a huge gap in the local service economy: "where do you go to hire a reliable tradesman for that small job?". Rely on us for the projects too small to motivate the other local contractors.
Our staff is highly seasoned (so nobody's going to be undergoing on-the-job-training at your house, at your expense). Our carpenters average 20+ years of experience, and most have owned their own business (interpret: savvy, mature, sensitive to customer satisfaction). All have undergone criminal background checks, and are more than trustworthy. We hold the highest level license granted to a contractor/carpenter in MA (Construction Supervisor License #CS 085804, the equivalent of a "general contractor's) license), as well as a Home Improvement Contractor License (Reg # 136868, Reg# 183627). We have complete Workman's Compensation coverage through Associated Employers Insurance Company, and the maximum allowable amount of liability insurance coverage ($2M) through Scottsdale Insurance Company.